Tilbury Bathroom Installation
We would like to say thank you to Tony and his experienced team for the outstanding service and attention to detail in completing our recent bathroom renovation. When I first contacted Essex Bathrooms it became evident I was dealing with a professional and experienced company. I had a fair idea of what I wanted and had sent rudimentary drawings, budget and requirements including specific items of furniture I wanted. Tony arrived on time and understood what I wanted, took measurements and within 24 hours I had a 3D image of exactly what was inside my head, amazing!
The rest was project managed and installed expertly and professionally, at every stage Tony and his team kept me advised of each stage, plus with only one bathroom in the house we were always left with a working toilet at the end of each day which takes some planning I can tell you.
I only have good things to say about how Essex Bathrooms work, from punctually arriving every morning and working long hours to make sure the bathroom was completed within the time advised from the outset, any issues along the way were capably handled and either worked around or an alternative solution provided.
An excellent service all round and very satisfied and very pleased with the final result which is exactly what I pictured before approaching Essex Bathrooms.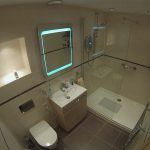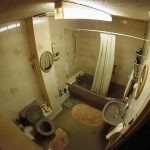 Scott and Tanya Jewers – Tilbury, Essex
Chelmsford Bathroom
I am writing to tell you how satisfied we have been with the work carried out by your company. This is the 2nd time we have used Essex Bathrooms and the second time we have been totally satisfied and we have received lots of positive comments from all those people who have visited our house. Everyone is very impressed. From the moment the designer brian arrived we felt very impressed he was informative polite and not at all pushy which made the decision easier.
The two fitters brian and tony were fantastic they were polite and hard working and made sure that the bathroom was always tidy and clean when they left. In fact it was impossible to tell that we were having any work done at all.
I am sorry it has taken so long to write to you but i have just changed my job and time has run away from me. Please could you pass on my comments to all concerned and i can assure you that i would recommend your company to anyone.
Once again many thanks,
Best Regards,
Colin Pinder
New Bathroom Installation
I am just writing to express my appreciation on the completion of my new bathroom and cloakroom.
brian initially spent several hours with me discussing my repuirements and was extremely helpful with his suggestions, enentually producing a design which is most satisfactory, brian and you were also very cooperative in sorting out the inevitable minor problems and amendments that arose and carried out the installation with 1st class craftsmanship.
I would have no hesitation in recommending essex-bathrooms to any interested parties.
Mr & Mrs wade
Efficient Workmen
Just a brief note regarding the work completed by your team in installing the bathrooms to my property. I wish to put in writing my appreciation of the way in which all the workmen operated. They were highly courteous, efficient and clean.
Naturally, my wife and i are very pleased with the installations.
Yours sincerely,
J.F. LYNES
Pleased with Bathroom
Dear Essex-Bathrooms,
I am sorry i have not written before to acknowledge the receipt of your letter of 28th march. I thank you for the m&s voucher which was a welcome surprise.
I am writing this to tell you how pleased i am with the bathroom. however if you could pass on my thanks to Brian and tony i should be grateful.
Yours sincerely,
Margaret Bradshaw
Disability Bathroom
We have just had our bathroom redesigned, as my husband is now disabled and was unable to use the exisisting bath & shower. We decided to have a quadrant shower enclosure instead of a bath to give us a lot more space. After looking at several websites we decided to go with essex-bathrooms. Tony came round and we discussed our needs and he made several suggestions and between us we came up with the bathroom to suit us. We were very pleased with the result. He carried all the work out independently which included concealing the pipe work,tiling, installing a digital shower and the recommendation of a flooring specialist for non slip flooring.
He was very helpful and nothing was too mush trouble when asked to do other small jobs. He was a very good worker and we would not hesitate to recommend him to friends and family.
Charlie & Kath Mead